How to Protect an Affiliate Link with Link Supercharger …..
Hey folks, this is Paul Henderson back after a bit of a break. Today I want to show you exactly How to Protect an Affiliate Link.
For some time it's been bugging me the price you have to pay for a decent link cloaking software. 
In the past I've used ClickMagick to cloak my links.  The problem is the US$17 per month.  You can pay just $12 per month if you cough up for the whole year at once.  But of course many people either don't have, or don't want to shell out, $144 all at once !!!
But of course, there are some very real reasons why you should cloak your links.  The main reasons are…..
To stop commission thieves – this happens all the time to unprotected links!
To avoid using link shorteners like bitly and tinyurl that will have your messages classed as spam in a heartbeat.
And also to pretty up your links, since this has been shown to give a better Click Through Rate
So while it's essential to have a link cloaker, the price of some of the big boys in the game can leave a real rotten taste in your wallet.
But check this out….
This is a product I stumbled upon a while ago and have been using happily ever since.  Put simply, it's one of the simplest full featured programs available for cloaking your links that I've ever seen.
It's called LINK SUPERCHARGER.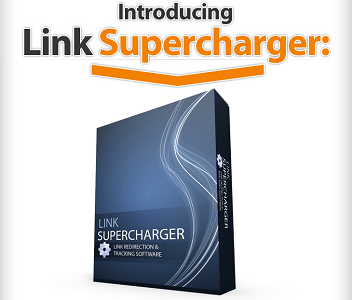 It's simple to install and incredibly easy to use. 
When you buy Link Supercharger you download a zip file that file contains the php file to upload through FTP or your CPanel, and two short instructional videos covering installation and use.
It's all incredibly straight forward so I'm not going to go over that now.  Suffice to say you can have the installation video watched, and the programs installed inside ten minutes.  And that's me, – a stoopid old guy – so you youngsters will have no problem.
How to Protect an Affiliate Link with Link Supercharger
Naturally, you can create both cloaked and uncloaked links with this software.  And you can group your links into categories so they're easy to find later.
Plus of course you can track all your links to see which ones are performing best with the inbuilt 'hit' counter.
Another amazing feature of Link Supercharger is that it allows you to share your links to social media right from inside the program.
But for me, one of the best features is the 'Hot Page' feature.  This allows you to automatically create a page containing all the items you've promoted over a certain time frame, and list them sequentially to re-present to your list for a second go.  So if you have a few related products, you can re-present them together, – maybe once a week on a Friday evening to close for the weekend for example.  Buy whatever, this is a great feature that can get you more sales from the same promotion.
The Best Part – The Price!
You might expect that a program as full featured as this would cost at least the same as a couple of month's subscription to the other programs.  But the value of this program absolutely floored me.  You can have the program to use forever – for a one off payment of just $14.95
AND… it comes with a full 60 day guarantee, so there's absolutely no risk to you.
But I can promise you, like me, once you grab this you'll use it all the time.
Click the button below to grab your copy now before I jack the price up to something more reasonable.
Visit the Link Supercharger information page by clicking the link below…
 Read More About Link Supercharger HERE 

DISCLOSURE:
Honesty is the name of the game with me, so in full disclosure, the tracking offered by this product is NOT the all in full featured mega tracking system offered by Click Magick.  Common sense tells you it couldn't be.  So if you need all the amazing features offered by CLICK MAGICK tracking, then please click the image below to watch the Click Magick Training Videos…

Gratz !