Guys, in this and other posts, we're gonna bust the biggest List Building Myth for you.
Moving straight on…
Myth: The bigger your email list, the more money you make.
Fact: Bulldust! The quality of your email list wins over the size of it every time.  — No exceptions!
When you start out building an email list, you have two ways to go.
You can go quick and weak, or slow and stronger. Let me stress that email lists built quickly are much more likely to be weak-ass lists that are pretty unresponsive.
Take solo ad sellers for example: Do you think Solo Ad Seller lists are responsive? No way.  There isn't a Solo vendor out there that would have a responsive list – despite what they may say – lol. Their lists are great at receiving free offers.
And that's the extent of it.
And you can imagine that an email list crammed full of peeps who only want freebies is the worst type of list to build ever… unless you're the solo ad seller of course.
How often do you hear people complaining about low open rates?
Often – right?
Do you know why they have low open rates?
Come closer, I have a secret to share….
… it's because they don't take the time to target quality leads.
Instead they buy solos and do ad-swaps and blindly opt anyone and everyone onto their list via the traditional, often ineffective, one page crappy squeeze pages… followed by not spending enough time on mastering the skills behind effective email marketing.
Try pre-qualifying your subscribers with a 2-Step Optin page which asks your prospect to take a click once to see a second page before they get to opt in.
This micro commitment creates a psychological feeling of ownership to a point.  They've started the ball rolling, so heck – why not carry on?
You see, email marketing and list building are not the same thing. So think carefully about how you build your email list, so that you can market to them effectively.  Don't just let anyone and everyone in.  I know it looks nice to see lots of people joining, – especially for newcomers.  But it just inflates your ego, and the reality will hit home later when they don't buy from you.  Ever – lol.
FACT:  Traditional email lists built quickly, are statistically 90% worthless.
You heard right.  Statistically, 90% of people on your email list will probably never buy a thing from you.  But if you take more care in the building process; if you focus on quality over quantity at every step; and you concentrate on relationship building rather than large number building, then guess what?
… that 90% statistic will not apply to you.
OK, I'm outta here.  I'll be back later with more of this myth busting stuff.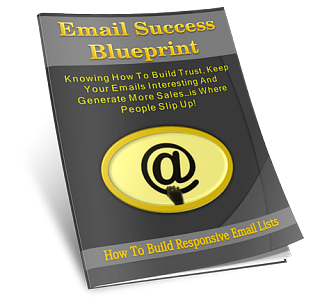 Oh! – BTW, Email Success Blueprint contains the exact details of how to create an effective Email Marketing campaign that will have you crushing it online and making money faster than you can say that long town name in Wales.
It works.  I know – it's what I do!
I want you to have this report for a miserably low price because I want you to see the quality of the stuff I put together for you.  That way you'll see I'm the real McCoy !
Hey guys, I know you'll have loved this information, so please share ('share' is better than 'like' I'm reliably informed) on Facebook, G+ and Twitter.  Just click on the buttons under here.
See you then.
Paul
Cheers guys – Love you all 🙂