How to Rebrand a PLR eBook
When marketers purchase PLR with the idea of either selling it or offering it as bonuses, only the very dimmest and uninitiated of newbies would consider sending it out exactly the same as they purchased it !
OMG – WTF !   Don't do that or your name will be mud from now til the end of time.
"Huh ??!?"   I hear you burble.  "But I bought this PLR specifically to re-sell to save myself time in creating a product."
Oh you poor deluded person!  That's not the way to do this at all.
Imagine, you and three thousand other deluded souls bought this (average in the first place) PLR – hoping to IMPRESS your customers.  And in no time at all, because they mix in the same circles you do, they receive another dozen copies of the same half-baked rubbish you sent them!
In no time at all, your reputation is gone, and you will NEVER get another sale again from those 'ex' customers again.
You get my drift amigo?
BUT…
What if we tackle this another way. 
What if we take the PLR you bought, and with a bit of effort we turn it into a FAR better product?
We simply use the PLR as a basis upon which to build your totally better (in every possible way) product !
Well friends, that is what my video will teach you to do.  But of course you have to watch it to the end. 
Because the information you need to complete this task lasts til the freakin' end.  SURPRISE !
When you know how to do that, you will truly be able to make PLR sing for you.

When I first made this video, it was to help someone on the Warrior Forum in response to a question they posted.
Within minutes I was deluged with requests for the link to the video.
After posting the link to my Rebranding PLR video all night, it finally dawned on me (duh!) to just post it on here and direct them here.
Which not only made it easier, but it allowed people to see my blog too 🙂
I have to say, I loved being able to help those good folks, and I hope it helps you too.
If there's anything else I can help you good peeps with, you only have to ask – seriously 🙂
Ok – here's the vid that's was driving everyone wild.
Please Note – The Video Duration is 28.09 minutes…
"How to Rebrand a PLR Product or eBook"

 
…is available as a PDF for those who prefer to have the info at their fingertips as they work.
The cost is just $3.95 by clicking the following link…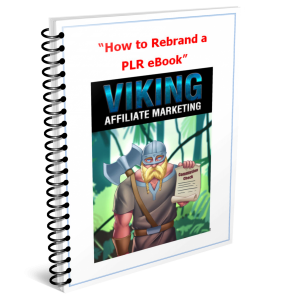 This video and PDF show you step by step How to Rebrand PLR and in doing so create a product which can be much better than the original and which reflects your own personal style and branding.
You should never just buy a PLR product and offer it to your customers and prospects 'as is'. You MUST rebrand PLR product – every time!
Why?
Because potentially lots of other marketers with no imagination will already have bought the same private label rights ebook which they handed out as is because they were too lazy to rebrand it and make it their own. This means that if you do the same, you risk giving them the exact same product the others did – which can only ever make you look tacky.
That's never going to help sell your unique style now is it?
If you follow the steps I teach in this PLR rebranding video, you'll have a fantastic product that will stand the test of time. This PLR rebranding knowledge is invaluable for any newbie, or indeed any seasoned, Internet Marketer.
Link to Youtube video…. https://youtu.be/RVbWwuQrMIQ
I hope you enjoy the video. Please do comment below and share on Facebook and G+ etc 🙂
Thanks for watching – How to Rebrand a PLR Product.