List building seems to be generally thought of as an almost impossible task by most newcomers to internet marketing.
So many people claim to find it too much of a mystery to get to grips with, that they never really get off the ground with it.
I can only think that they have not just sat down, studied the various methods, chosen one or two, and got down to the actual nitty gritty of doing it.
Because seriously, it is NOT that hard.
There are so many quite different ways of generating Traffic, that I could talk for ever about this alone.  But following is a couple of tips that will get you going without necessarily breaking the bank.
In basic terms, Building a List means you send visitors to your Squeeze Page after which they have three choices.
They'll either not like what they see and go!
They might read the offer but decide not to opt in!
They might read the copy, like what they see and opt in to your list to get the free gift. 
In case it's not obvious, the last option is what you strive to achieve.  It should be the ONLY option – if you get my meaning!
The Importance of Traffic
From that last thought,  you can instantly conclude that the number of opt-ins is gonna be determined by two things ONLY –
The Number of Visitors to Your Site, and
The Conversion Rate of Your Squeeze Page
Increasing either will improve your sign-ups. Improving both is Gold!
Pay Attention to These Two
To demonstrate how important it is to have your finger on the pulse here, let me quickly outline the compounded benefit of improving both these factors, rather than just focusing on one of them.
Example:
You have a squeeze page and drive 100 visitors a day to it.  It converts at 10% meaning that 1 visitor in 10 opts in.  Each day therefore, you have 10 new sign-ups.
 If you improve the traffic figure by doubling it, but neglect to improve the conversion rate, then you now drive 200 visitors a day converting at 10% giving you 20 sign-ups a day.
 Alternatively, if you neglect to improve the traffic but work on improving the conversion rate, say to double the prior figure, then you now have 100 visitors converting at 20%, which again gives you 20 new sign-ups per day.
 But if you work smart, and manage to double the traffic AND double the conversion, you'd have 200 visitors per day converting at 20%, giving you a whopping 40 new sign-ups per day.  That's DOUBLE either of the other two results where you only focused on one of the two factors
From this, it's crystal clear that you need to continually work hard to drive ever more traffic to your squeeze page, whilst also getting started as soon as practical with split testing to improve your conversion rate, as I mentioned earlier.
OK, A Great Free Traffic Method To Get You Started – eBook Syndication
This is such a fabulous method of generating hundreds, even thousands, of extra visitors to your website each month. And surprisingly it's a method that very few people even realise exists.  This is a highly leveraged technique since you're going to get all these extra visitors, subscribers and sales for hardly any extra work.
That's because eBook syndication is a way of re-purposing your existing work, and presenting it in a different format to give it a second life if you like.
So what do you need to do?  Well, you're going to be getting together either a collection of related articles and blog posts, or perhaps just one mega-article that you've written and used in the past.  Then you're going to combine them into one document which you'll turn into a PDF, and then into an eBook.  You should aim for a book size of around 50 pages.
You can even use PLR for this if you wish as long as you remember to re-hash the PLR into your own style.  In fact that's a great way to do it if you don't have any articles yet.  Like when you're new, for example.
So, you have your collection of articles or whatever, all combined into one document in MS Word or something similar.  You then have to convert this into a PDF document.
If you have MS Word, it will happily save your document in PDF format.  Just click the Office button, then 'Save As' – and save it as a PDF.  If you don't have Word, then there are plenty of PDF converters available freely, such as …..
You'll need to think up a cool and catchy title too, that would be real good.
To make your eBook look pretty, just hop over to www.Fiverr.com , search on "Graphics", and find someone who can put together an eBook Cover for you.  Be sure to look at ratings to make sure the person you choose gets great reviews.  If you're not a graphics whizz yourself, don't try to do this yourself, – for five measly bucks, just farm it out to an expert.
Then what you're gonna do is submit your eBook to three of the top eBook Directories on the net.  This is to give it some great exposure and ensure it's seen by as many people as possible.
The eBook-Directories we'll use are…
You do need to join each of these sites, and then just add your ebook.  Don't forget to make a note of your login details in a spreadsheet.
There are many many more than these three eBook Directories, – these are just the best in my opinion.

🌟🌟🌟 WAIT – Here's Some More FREE Stuff… 🌟🌟🌟
To Build your List 💨Super Fast on a small budget, click the pic below
and earn EASY PASSIVE COMMISSIONS 5 different ways …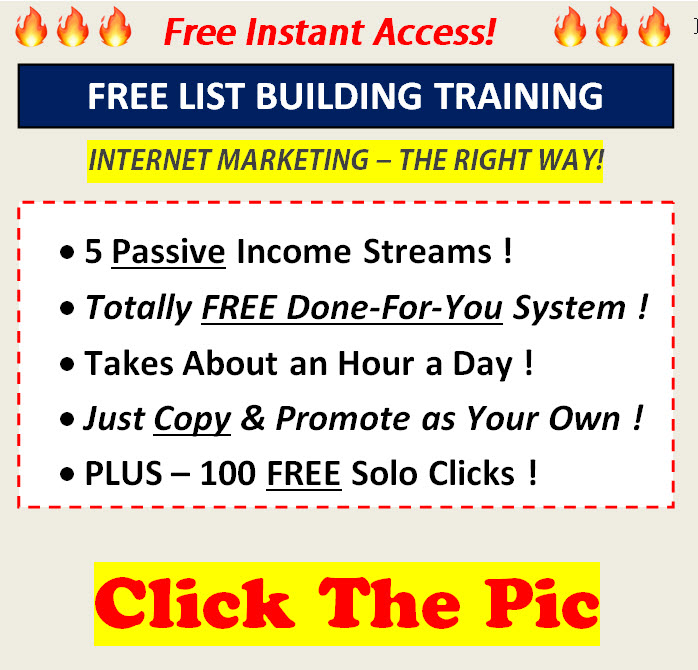 Continuing with the blog post 😁👇…
Please note …
For this to work, you must be sure to insert links pointing back to your website or Squeeze Page installed at strategic points throughout the eBook.  Definitely have a link inside the cover at the front, just under the title, so that people see it the moment they open the book. Then, possibly at the bottom of every page, and then at the end of the eBook with a graphic.
To be clear, ALL links point back to your Squeeze Page.
So there you have it.  Use about 50 pages of existing content together with a $5 eBook cover from Fiverr.com to create a PDF eBook which you'll then submit to three different eBook-Directories. Done !
I mentioned PLR…
You can also use PLR to either do the same sort of thing, or compile several smaller reports and articles which you could then submit to all the top eBook Directories.  This way you'd quickly create multiple traffic machines all pointing back to your squeeze page.  This will generate awesome traffic for you.
The best PLR stores that I've used are:
I've described this traffic method as a free method – and it is.  There is however a paid option too attached to these sites which you'd do well to consider.
Basically, you can pay to get continued premium exposure, such as on the front page of the eBook Directory site, or in a highlighted box.  The exposure your eBook gets from this is insane, and it will be viewed by thousands, even perhaps tens of thousands, of people.  You only need a few sales for it to pay for itself, so it's something you'd be wise to consider.
They will also do a mail out to their entire database of, in some cases, up to 1,000,000 subscribers.
The results from this could be awesome indeed!
If you've enjoyed reading any or all of this, please feel free to share on your social media channels.
And also, feel free to write a comment in the space below.
Ta very much, and catch up next time.